SUSTAINABLE PROSPECTS PROJECT DEVELOPMENT WEEK 9 – LISA
In June 2019 I started my MA with Falmouth university as part of an accredited education programme.
5th December 2019
***
***
CONTACT SHEET FOLLOWED BY FAVOURITE IMAGES AND EVALUATION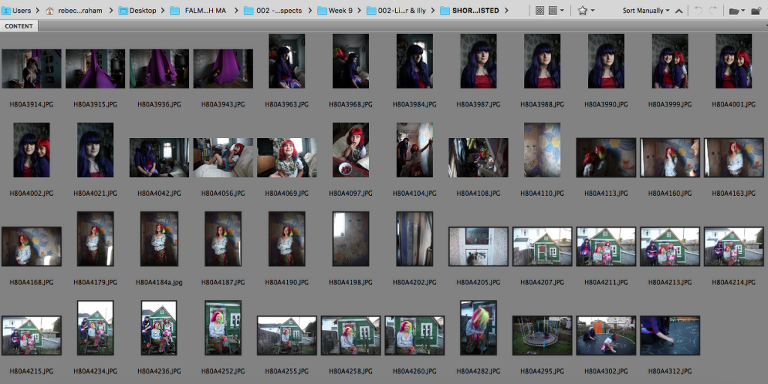 ***
Below : I loved this shot of S , it's a tad over exposed on the left eye/cheek but I still feel it works well. S was really apprehensive about having an image on her own, but really really liked it when I showed her what I had created , such an amazing thing to be able to add to positivity of these amazing females !
BELOW : I ADMIT IT I HAVE SERIOUS HAIR ENVY.
AGAIN I REALLY NEED TO WORK ON ALTERING MY FSTOP MORE QUICKLY, I GET SO SET ON HAVING THE DARKER ROOMS LIGHT ENOUGH AND KEEPING THE APERATURE WIDE OPEN TO DO THAT THAT WHEN THERES EVEN A SLIGHT DIFFERENCE IN THE PLAINS PEOPLE ARE ON IT MAKES IT OUT OF FOCUS. I STILL THINK THE IMAGE WORKS WELL, AND ACTUALLY IT MAY WELL OF WORKED BETTER LIKE THIS, HOWEVER I WONT EVER KNOW BECAUSE I DIDN'T DO THE SHOT WITH THE SMALL APERTURE BECAUSE ILY WAS GONE IN A SHOT !
BELOW : I'VE REALLY ENJOYED CAPTURING FAMILIES THAT RANGE FROM RADICALLY UNSCHOOLERS TO FAMILIES WHO RECREATE THE SCHOOL CURRICULUM AT HOME. WHAT I HAVE FOUND THE MOST INTERESTING, AND MOST ILLUMINATING, IS HOW WE ARE ALL 'DOING' THE SAME THING REALLY. USING SIMILAR RESOURCES, IN SIMILAR WAYS, THEY ARE ALL JUST PACKAGED UP IN DIFFERENT WAYS. I REALLY LIKE WAY S IS SITTING ON WATCHING LISA HER MUM, AND HER YOUNGER SISTER ENJOYING THEIR STORY. SHE'S HAPPY AND ENGAGED, BUT SEPARATE AT THIS MOMENT SYMBOLISING THE GROWING UP THAT ALL OUR CHILDREN HAVE TO DO, THAT WE ENCOURAGE AND NURTURE. PART OF THE BEAUTY OF HOME EDUCATION FOR US IS THAT HAS ALLOWED ALL OF OUR FAMILY TO TAKE THIS GROWTH AT THE CHILDRENS OWN LEISURE, AT THEIR OWN TIME FRAME, NOT IN THE TIME FRAME THAT SOCIETY, THE NATIONAL CURRICULUM, OR PEERS DICTATE. THERES A BEAUTY TO THAT THAT IS IMMEASURABLE.
BELOW : RASPBERRIES
BELOW : I WAS SO UNBELIEVABLY HAPPY WHEN I SAW THIS FROM THE BOTTOM OF THE STAIRS. LISA HAS ENCOURAGED THE GIRLS (AND JOINED IN HERSELF) TO LET THEIR CREATIVITY AND COLOURFULLNESS GO WILD ON THE STAIRS , AND IT'S JUST BEAUTIFUL. THE GIRLS TOOK ME THROUGH SO MANY OF THEIR DRAWINGS, AND SHOWED ME THEIR FAVOURITE PIECES, OR BEST PIECES, THAT THEY HAD CREATED WITH SUCH PRIDE IN THEMSELVES, AND EACH OTHER, IT WAS LOVELY TO LISTEN TO THEM, AND GET TO SHARE THAT WITH THEM.
BELOW : THIS IS PROBABLY MY MOST SUCCESSFUL PORTRAIT OF THE MUMS THAT I DID THIS MODULE. I LOVE THE COLOURS, AND THE LIGHT (THOUGHT I COULD OF GONE A BIT DARKER WITH THE SHADOWS I THINK) THE JUXTAPOSITION OF THE COLOURS AGAINST THE THOUGHTFULNESS OF LISA REALLY CAPTIVATED ME. THERE WERE LOTS OF OTHER SHOTS OF THIS SET UP, SOME HAPPY AND SMILING, SOME WHIMSICAL, SOME FUNNY, BUT THESE MORE GENTLE , VULNERABLE, AND HONEST MOMENTS WERE THE ONES I LIKED MOST OF ALL FROM THE SET.
BELOW : THE BRIGHT COLOURS, AND THE WENDY HOUSE MADE THIS IMAGE FOR ME. CAPTURING AND SYMBOLISING THE HAPPY, COLOURFUL, GIGGLY HOUSE AND HOME THAT THESE LADIES HAVE MADE TOGETHER, THE QUIRKS AND TRADITIONAL ELEMENTS MIXED TOGETHER PERFECTLY. THE CAT BEING IN IT WAS PERFECT AS WELL, THE PERFECT SYMBOL OF HOUSEHOLD WARMTH AND CONTENTMENT.
BELOW : ANOTHER EXAMPLE OF EDUCATIONAL ELEMENTS BEING FOUND IN PLACES WE WOULD NEVER USUALLY THINK OF LOOKING. I GOT TREATED TO A VERY SPECIAL CHALK DRAWING BY ILY OF ME TAKING THEIR PHOTO SO WE SNAPPED SOME SELFIES TO CELEBRATE SUCH A WORK OF ART ! IT'S WONDERFUL ALL THE PICTURES AND NOTES THESE KIDDOS HAVE ALL MADE ME DURING THIS MODULE, THESE CHILDREN ARE SO FLIPPING LOVELY AND THOUGHTFUL . CHALK DRAWINGS, GET WELL SOON CARDS, PAINTINGS, NOTES …. IT'S BEEN SO TELLING OF WHAT KINDS OF PEOPLE THEY ARE ALL GROWING UP INTO , AND I FEEL , TRULY, THAT I HAVE BEEN BLESSED AND HONOURED TO OF BEEN ALLOWED TO CAPTURE THIS TIME IN THEIR LIVES, AND THAT THEIR PARENTS WERE OPEN AND TRUSTING, AND KIND ENOUGH TO LET ME IN, SOMETHING THAT CANNOT BE PLAYED DOWN, IN HOW HUGE A THING OF TRUST THAT IS.